Image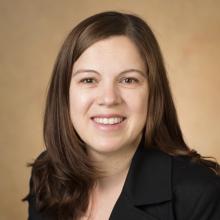 Ph.D. Oregon Health and Science University
Research Interests
Elinor Sullivan's teaching focus is in the areas of nutrition, endocrinology, and neurobiology.
Dr. Sullivan's research focuses on examining the influence of maternal metabolic state and dietary environment on offspring behavioral regulation, with an emphasis on behaviors that relate to mental health and behavioral disorders including autism spectrum disorders, attention deficit hyperactivity disorder, anxiety, and depression.
Her areas of expertise include behavioral neuroscience, with training and expertise in human and nonhuman primate behavior, brain development, developmental programming, maternal nutrition, and neurodevelopmental disorders.
Dr. Sullivan received her Ph.D. in Physiology from Oregon Health and Science University. She received her postdoctoral training at the University of California San Francisco and Oregon Health and Science University. Prior to coming to the University of Oregon, Dr. Sullivan was an Assistant Professor in the Biology Department at the University of Portland. Dr. Sullivan is currently an Assistant Professor in the Divisions of Neuroscience and Cardiometabolic health at the Oregon National Primate Research Center. She joined the UO Department of Human Physiology in 2017.
Dr. Sullivan has received research grants from the National Institute of Health, the Bill and Melinda Gates Foundation, the Murdock Charitable Trust, and the Obesity Society.
Prospective Graduate Students: Please contact Elinor Sullivan to determine if the lab is accepting new graduate students.